The blessings upon Markethive are many
The blessings upon Markethive are many.

We own the international trademarks on the name Markethive in nearly all the classes.
See for yourself

We own all Top Level Domains for the Trademark Markethive
Markethive.com
Markethive.net
Markethive.org
Markethive.io
Markethive.co
Markethive.re
Markethive.in
Markethive.li
Markethive.tv
Markethive.us
And another 30+ Markethive.TLD

We own all top Social Network accounts with the trademark Markethive
Please subscribe to all of them as we move forward to achive media content status.
We will be rewarding thos who subscribe when we launch our bounty program.
We have 1000s of positive articles about Markethive on the Internet. Just search "Markethive" for yourself
There are 1000s of references, articles and mentions on the Internet. Do your own research and see for yourself.
Markethive's Alexa Ranking comparison listing of the 400 other Crypto media sites
COINMARKETCAP: Alexa: 485
CCN.COM: Alexa: 1,458
COINTELEGRAPH.COM: Alexa: 4,496
COINDESK.COM: Alexa: 6,294
CRYPTOCOMPARE: Alexa: 10,952
NEWS.BITCOIN.COM: Alexa: 11,763
COINTRAFFIC.IO: Alexa: 15,825
AMBCRYPTO.COM: Alexa: 22,212
NEWSBTC.COM: Alexa: 25,740
MARKETHIVE.COM: Alexa 30,020 now 27,300

We just broke the 10,000 members threshold
(we are now about to pass 15,000)
We have achieved our milestones in our white paper to date.
https://markethive.net/Markethive%20Whitepaper.V2.pdf
Markethive is going to the moon, and you are invited.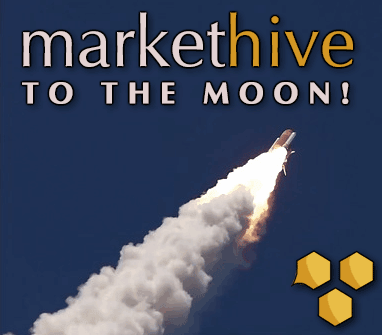 How can you help? Let me list the ways:
1. Install the Alexa browser extension (it is free) https://www.alexa.com/toolbar
2. Log in daily to Markethive and learn the system. HINT: Tutorials
3. Log into the system, navigate to Refferals and tell your friends to sign up ( we reward you generously for this action)
4. Upgrade to Entrepreneur. We regard this as a loan and pay you back with interest.
Find out more https://markethive.com/group/marketingdept/blog/entrepreneur-associate-leads-report
5. Invest in the ILP program.
Find out more https://markethive.com/group/marketingdept/blog/pay-attention-we-are-13rd-the-way-there
6. Come to our Sunday Webinars at 11am (central) See the calendar
Thomas Prendergast
CEO and Founder
Markethive.com